Bush Warbler -
behind the willow,
in front of the grove


uguisu ya / yanagi no ushiro / yabu no mae
Basho wrote a number of Springtime haiku involving a bird called the Japanese Bush Warbler, or
uguisu
.
Taking my own advice, I have done some research on the bird, to better appreciate the significance of this particular word in Basho's haiku.
According to Wikipedia, the Japanese Bush Warbler is drab-coloured and secretive. The bird is olive brown above and tending toward dusky colours below. It has pale eyebrows. It has a beak that curves up making it look like it is smiling. The bird is typically 15.5 centimetres (6.1 in) in length. It is normally only seen in spring before there is foliage in the trees. It tends to remain deep in the shadow of foliage during the day.
Apparently therefore, few people have actually ever seen this bird though many people have heard it. Yet it has a very distinctive call that has become a symbol for the Japanese spring and summer. (To really enrich your appreciation of the Basho haiku, you might like to check the
Wikipedia
page
,
which has brief audio recordings of the singing of a Japanese Bush Warbler, or
this page
which has a longer recording - almost 3 minutes worth, which definitely provides a poetic (and relaxing) interlude.
Returning to our poem above, we might begin to appreciate that what Basho has captured is the invisibility of the bird, as it flits unseen through the foliage. Now it is here, now it is there - or are there really two birds in the poem? Basho does not know. Such is the mystery of the bird, which to the Japanese embodies Spring - it is a force of Nature. It is as if Basho is saying: "Where is Spring? Here, there - wherever you look". And where do you look? Wherever the singing bird calls to you from. This poem seems, then, not only to reproduce for each reader Basho's actual physical experience of hearing the Warbler from the foliage, and looking for it; it also captures the wonder of Springtime. And without saying anything, Basho seems to be teaching us to let Nature guide our eyes and our inner spirits, and then it can fill our poetry. All in 17 syllables!
Contrary to many modern haiku exponents, I personally prefer to write haiku in 17 syllables across 3 lines. I understand this is not a "true" equivalence for the Japanese versions, and certainly is not the definitive version of haiku in English. But for me, the discipline of trying to find phrases to fit that arrangement actually challenges me to find a better form of words than my initial "poetic inspiration" might have. It teaches me not to be satisfied with just any choice of words, but to ensure the words I use are both poetic and metrically balanced. This is not obligatory - and I break my own rule occasionally. But at this stage in my apprenticeship, I think the lesson is more valuable for developing my linguistic range, than the need for total poetic "freedom".
So, here is my own translation of Basho's poem above:
Secret bird of Spring -
now, behind the willow, now
in front of the grove.


If you want to further explore the Japanese fascination and love for this bird, you might also like to
download and construct this papercraft
model, to have one near your poetry writing desk. According to the "trivia" notes from the site:
"Uguisu

(Japanese bush warblers) often appear in gardens and trees in towns and villages during winter and spring.

Ume

(plum blossom) trees blossom in very early spring before many other plants begin to have flowers. Therefore, Japanese bush warblers and plum blossoms are popularly featured in haiku (Japanese traditional poem) composition as seasonal words representing spring."

Indeed the combination of these two motifs representing spring has been "a favorite theme for Japanese poets and painters since the Nara period in the 8th century."

Here are some images from woodblock printings:
Early Spring - Wild Plum and Japanese Bush Warbler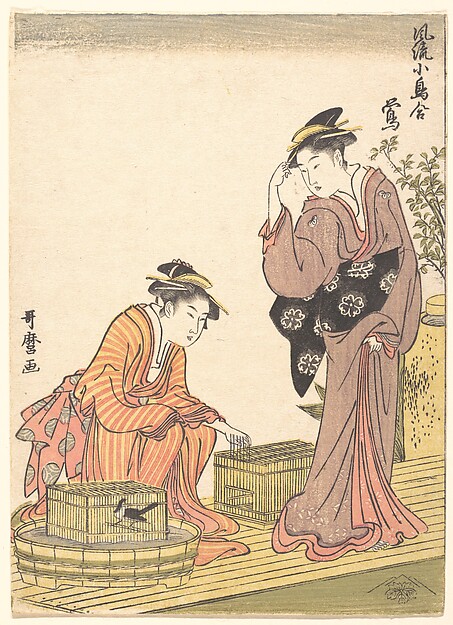 This last picture shows the warbler in a cage. Apparently the Bush Warbler is so highly prized for its song that it has historically been kept in cages. To encourage the bird's singing, the cages were often covered with paper with only a small opening to allow a small amount of light. Presumably this better simulated the bird's natural environment, and encouraged it to sing, calling to any nearby birds. Basho, by contrast, has captured the bird, contained it within 17 syllables, yet it is not caged! It Is flitting around the trees still.
I know at least five poems by Basho featuring this delightful creature.
But my favourite is this one:
With a warbler for
a soul, it sleeps peacefully,
this mountain willow
(Trans.
Sam Hamill
)
Before I set about writing this post, this particular poem was remembered by me more in spirit than detail. A few weeks ago I had paused somewhere and heard a bird singing from a tree. I responded with what I thought was a memory, a memory of a poem in which the bird's voice became the voice of the tree, that the bird actually was the soul of that tree. I was filled with wonderment that Basho had worked a miracle, giving a soul and a voice to all trees now whenever birdsong utters forth. Certainly it was to me an enchanting thought and inspired my own haiku.
Old poet as priest:
Miraculous - this tree too
Has begun to sing.


But to my amazement when I reread the poem in another translation, I find that was not quite how Basho had written it at all! The voice of the bird is a spirit enchanting the willow to sleep. Yet the realization only further increases my appreciation for the miracle which the priest of haiku has wrought: he has in-spired me - literally, breathed his spirit into me, so I have been granted to have my own visions of spirit in nature in poetry.
Surely here is the best reason for continuing to read and study haiku masters: they sometimes will grant to their eager apprentice to receive a share of their spirit - that is, their vision.
Copyright © 2013 The Haiku Apprentice